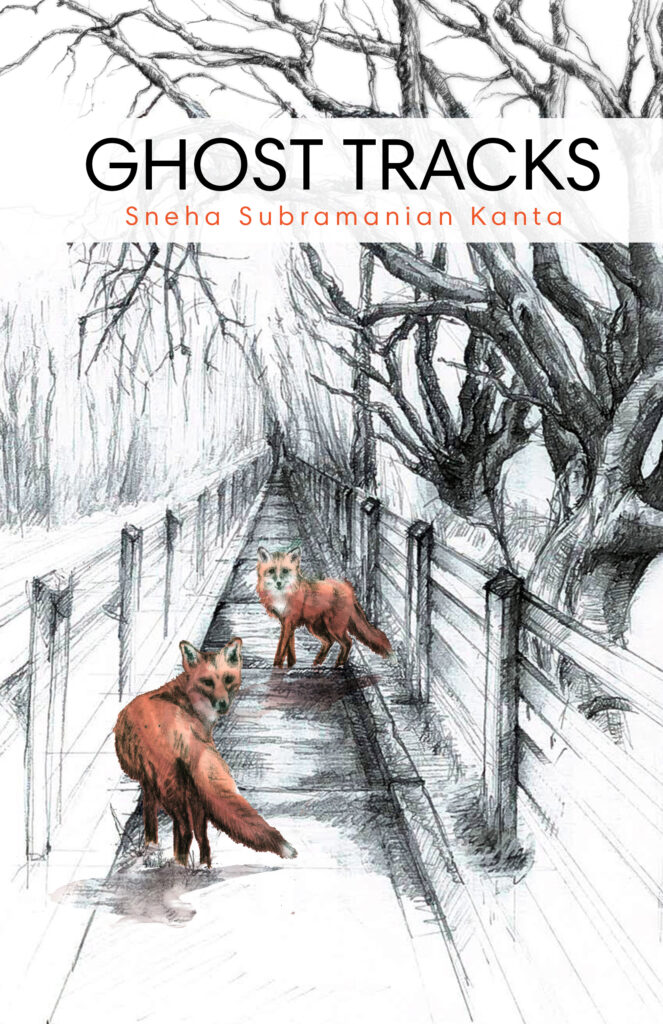 Ghost Tracks, published by Louisiana Literature Press delves into the epistemology of the word ghosts, and embodies several pluralities. The book explores migration, climate collapse, ecology, and violence. The poems in this book trace how ambivalent attitudes toward the body extend to a similar connotation about earth. Cognitive biology taught in school often disregards the fact that "human beings" belong to the Kingdom of Animalia. This internalizes correlations where sites of erasure make way as opposed to agency. Ghost Tracks is a singing of both; the active and subterranean.
"We are told by the title to expect tracks, traces, as if the ghosts were deer disappearing into the woods, but instead the ghosts are moving about in front of us in plain sight. They are shocking in their plainness, threatening in their unapologetic and unobscured morbidity, as they thread themselves among the fishes and swallows and myrtle trees and crows and all the other creatures that maraud through these poems undeniably alive."
This is a new spiritual awareness, a new doxology, where all things are living, even as ghosts, and all things are holy, unnamable. Time and place overlaps with the time and place of the past in Kanta's worldview. Existing simultaneously beside scenes of the past leaves little room for misunderstanding one's impact on a particular place, and this seems to be the crux of Kanta's poetry in Ghost Tracks. Her speaker explores this sense of cosmic time fully...
The effect is on the ecosystems of the river and those who would make a livelihood by it. And the ghosts in Kanta's poetry have come to tell us of their story. It is in this way that Kanta's ghosts diverge again from popular artistic representations.
"Ghost Tracks is also just stunning in its language. Kanta's imagery is lush and rich, full of gorgeous juxtaposition where "grief is fasting into thickening blood" and "membranes of the sky crackle / into a cold sunset." Fingerprints, tracks, and fish corpses are all depicted with delicacy and sharp attention, and bone and blood are blessed as "Sky turns into more sky." Everything lives, even the dead, and Kanta reminds us of this in her vivid language and particular use of verbs."
In an interview with The Shore, the poet cites her fascination with Kingdom Animalia—"Cognitive biology taught in school often disregards the fact that 'human beings' belong to the Kingdom of Animalia," and so her collection seeks to correct that failure. Although the collection is titled for ghosts, I initially expected Kanta to re-imagine life cycles; what is stunning, and likely the goal for a collection named for it, is her presentation of death.